It's a vision of calming blue, the color reflected off the cascading rock flour deposited deep in the lake. On a bright summer day, the gleaming lake offers the mirror image of the majestic Canadian Rockies surrounding it. Just beyond the fringe of the Lake Louise Village in Alberta, Canada, this glacially-fed lake in Banff National Park of the Valley of the Ten Peaks is a hiking enthusiast's delight.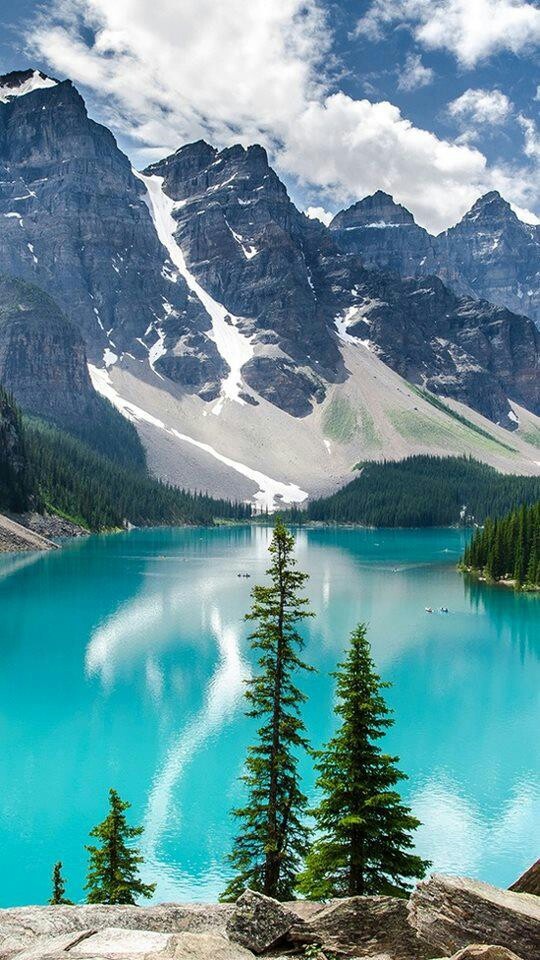 There are several hiking trails around the lake, but for safety reasons, some may be restricted. The Rockpile Trail stretching 300 meters is most commonly trekked by tourists. With an elevation of 79 ft (24 meters), the peak of the trail is a photographer's favorite spot, and incidentally one of Canada's most photographed locations.
Did you know: The Mountains that rise from behind the lake is also known as the Twenty Dollar View, because Moraine Lake was inked on the reverse side of the Canadian Twenty dollar bill in the 1969 and 1979 issues.
There is a longer trail, known as the Consolation trail that is a meandering 3 kilometers (1.9mi) and climbs a 90-meter (300 ft.) high. And if you make it to the end of the trail, a surprise awaits- the upper lake, which is hidden from view if you're at the lower lake. The downside to this trail is the lack of clearly marked trail, which makes the climb more arduous and requires some display of agility, hurtling over sizable rocky areas.
There is another trail to explore at the Moraine Lake Lodge, ideal if you're staying at the lodge for a romantic getaway. This trailhead branches out into two trails, and with one that branches out to a further four trails, making your hiking exercise an adventure.
Tip: the best time to visit the lodge lies between May and September, where the air is crisp and the weather accommodating.
A delicious body of water like the Moraine Lake is just begging to be explored. Canoeing is one of the activities you can do at the Moraine Lake Lodge, with each trip spanning up to 90 minutes and available from 10am to 6pm.
It's alright if you're not the energetic type. You can explore the stunning Canadian Rockies in a comfortable helicopter ride that takes you over the unspoiled alpine meadows, cooling glaciers and rolling streams. The stateliness of the view is pretty overwhelming, always have your shutters up and ready to click. After an explorative trek and an idyllic canoe session, taking the helicopter ride may be a good way to cap your trip to this part of the Canadian Rockies, don't you think?
Have you been to the Moraine Lake before?
Facebook Comments
comments