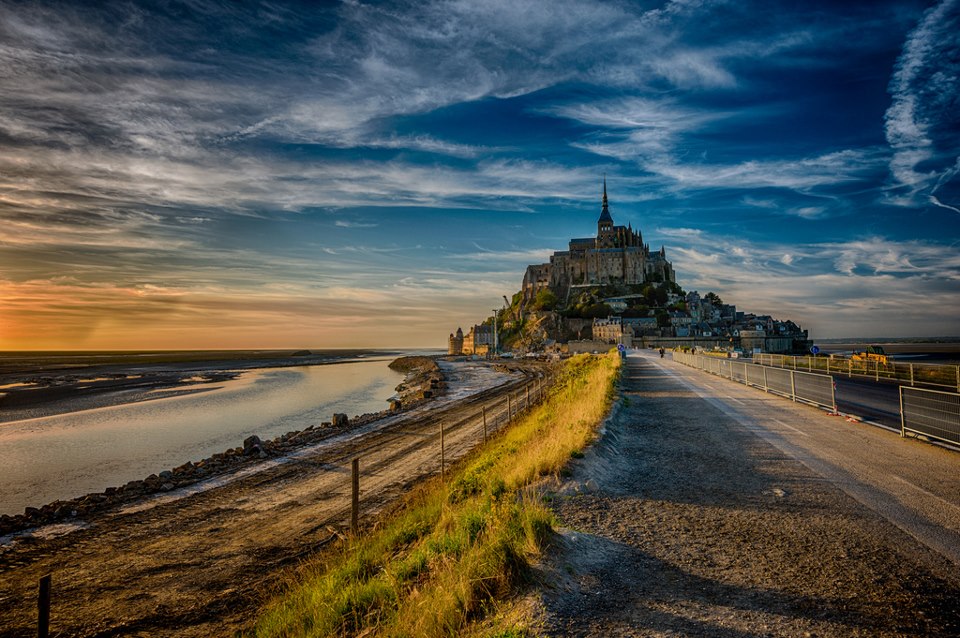 Its existence is as magical as its appearance- A tiny tidal island that arose from nowhere, surrounded by the sea, cutting a vision of mystic and mystery.
The island now known as Mont Saint Michel is a product of erosion.  Increasing sea levels helped shaped the coastal landscape at the mouth of the Couesnon River near Avranches in Normandy, France. This slow process over millions of years caused the granulite in the area to emerge due to wear and tear of the ocean.
Today, Mont Saint Michel is best recognised for its well-preserved Norman Benedictine Abbey of St Michel, peaking spectacular at the top of the island, while surrounded by winding streets and the labyrinthine architecture of the miniature medieval town.
The island's name came from the legend that the Archangel Michael had appeared to the bishop of Avranches, St. Aubert, in 708 and instructed him to build a church on this rocky islet. Having his instructions fallen on deaf ears, Michael burned a hole in the bishop's skull.
Mont Saint Michel was largely used as an Armorican stronghold of the Gallo-Roman culture in the 6th and 7th centuries. This would be a trend through centuries, where the miniscule island lends weight to many battles. In fact, the abbey on the island was once closed and converted into a prison. It was eventually closed in 1863, and declared a historic monument in 1874.
The climb up to the abbey is treacherous. When you reached the gallery around the roof of the abbey church, you would have mounted around 900 steps. That's no easy feat, but you'll be rewarded with breath-taking sights. When at the abbey, look out for a spectacular statue of St. Michael slaying the dragon. Apart from this dramatic scene, the abbey has an abundance of rooms, intricate staircases and vaulted halls to lose yourself in.
Officially announced as a UNESCO Heritage site in 1979, the island that withstood nature's wrath and mankind's rage remains enduring, offering us a wealth of history and culture, a rich lesson in architecture and a vision of natural beauty.
How to get there?
The easiest way to visit is to drive in. It takes 4 hours to reach Mont Saint Michel from Paris. Although, be warned that the queues to enter the carpark are often long. Parking fee is 8.50 euro.
Tip: It's imperative that you check the tide tables before embarking on a road trip to Mont Saint Michel. The tides in the area are known to change quickly and vary greatly, 14 meters between high and low tides.
Tip: If you intend to wander around the area, there's an old town at the base of the abbey worth exploring, with restaurants, cafes and even fast food outlets. Just don't expect good service.
Facebook Comments
comments